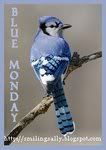 I hope everyone had a Happy Thanksgiving. I went home to see my family in upper Wisconsin. To get there I had to drive from my home in Nebraska, to my daughters home in Kansas, then drive to Wisconsin.
It was a good time, here are some blues from my parents house.
My parents back yard
Older pictures of my daughters
Me working with my mom's tree skirt.
This is a part of a pastel collection of plates that use to belong to my great-grandmother.